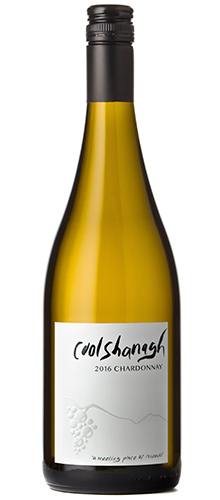 Currently Coolshanagh produces a small batch Chardonnay, sourced exclusively from estate fruit. A Pinot Noir is also produced in limited quantities that are pre-allocated each year. The total projected volume of the winery when mature will be approximately 1200 cases of Chardonnay and 300 cases of Pinot Noir. Very few people will have the opportunity to experience Coolshanagh wine.
WINEMAKING PHILOSOPHY
Wines that echo those in Burgundy were the initial inspiration for flavour and style; and winemaker Matt Dumayne notes that while the French style is a good reference point, the ultimate Coolshanagh wine style that emerges is one that specifically expresses and reflects the terroir of the valley and of the diverse soil of Coolshanagh Vineyard.
WINEMAKING PROGRAM
Coolshanagh's practice is to maintain a fairly low yield so the grapes will achieve maximum flavour potential on their own. Non-interventionist winemaking is key. The grapes are fermented whole cluster in neutral French oak to impart subtle nuances and the balance went into egg-shaped concrete fermenters. The two are blended together and placed in concrete egg-shaped vessels and left on the lees to impart structure and balance in the resultant final wine. The winery team has made the policy to leave the wine in bottle for 10 months minimum, as this wine improves with time in the bottle, allowing the complexity to develop.
"It is a three to five-year project that will build a connection between the vines and the land so that Coolshanagh can become a wine place. Lucky for them Skip Stothert says 'hard work is the easy part of growing great wine,' which means it's game on." – Anthony Gismondi, The Vancouver Sun
AVAILABILITY OF COOLSHANAGH
The 2016 Chardonnay, and a few remaining bottles of the 2015 Chardonnay, are currently available. Order via email or 250-809-4695. Sign up with Friends of Coolshanagh for the latest on new vintage releases. For those in USA, please order Coolshanagh online via Wine VIP.
2016 Chardonnay
As determined by Parra, each block of Chardonnay grapes is hand-picked at a different time, with the first picking taking place in mid-September and the last in early October 2016. Each section was treated differently to optimally express each unique vineyard location. For 11 months, a percentage of deeper, clay soil sections were whole cluster pressed into new oak puncheons to ferment, with the remainder being fermented in a concrete egg.
The wine underwent minimal handling and had lees stirring and bottling without fining or filtration. The idea was to create three separate parts that were uniquely represented in the whole wine. Alone, the parts showed the different sections and together the entire vineyard and all its nuances are brought into balance. This elegant wine exhibits aromas of straw, green apple and lychee, with a rich and layered texture. All flavours and textures are as nature intended. Dumayne says that this wine will reward aging.
PH 3.67 | TA 5.5 | RS 0.2 | ALC 12.3% | 750 cases
2015 Chardonnay 
Harvested in September 2015, 38% of this exquisite Chardonnay was fermented in two lightly toasted French oak puncheons; the balance in an egg-shaped concrete tank. Aged on the lees for eleven months and bottled August 2016. The nose offers citrus, creamy caramel, apple, pear, subtle white peach as well as subtle vanilla pudding, apple strudel. Medium intense. On the Palate: The finished wine offers a distinctive combination of bright acidity and texture. There's a distinctive sense of the vineyard in this wine with its stoney complexity and bright fruit evoking the rocky subsoils and cool mesoclimate. A beautiful mouth feel on entry, full body style, mid palate offers complex layers of citrus brioche, apple, ripe pear, butterscotch, crème caramel and baked green apple. A judicious use of oak gently frames this wine, is not up front and boisterous, but serves primarily as a textural lift. A lingering, long, pleasing finish. Upon release, the wine tastes spectacular, with great structure and mouthfeel, and this structure bodes well for its ability to cellar as a top flight wine.
pH: 3.91 | TA: 4.9 | RS: 0.6 | Alc: 13.5 | 312 cases

2012/2013/2014 Chardonnay (SOLD OUT)